Your support will make the difference
We are currently fundraising to purchase a building in the second city of the UK, Birmingham. A 'Hub of Hope', a centre of excellence and real second chance for rehabilitation, transformation and learning.
The hub will be used to encourage, support and micro manage new business ideas from those individuals we work with. Importantly, many of our clients come out of prison with great business ideas and passion. We are therefore supporting this passion with a business incubation model that will see investment and support for ex-offenders through business start-up.
Donate & support us - every penny counts
PAYMENT BY BANK TRANSFER
Cooperative Bank
Account Name: Bringing Hope
Sort Code: 08-92-99
Account Number: 65261729

Become a fundraiser - we'll support you
If you have an idea for a an event or are currently taking part in an event, we welcome you to become a fundraiser for #HubofHope and we will support you every step of the way. you can setup tour own fundraising page by clicking on the link below.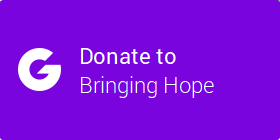 Our vision is to see a positive and life affirming change in the lives of people involved in, or affected by criminal lifestyles associated with serious and violent crimes. Offering a 'second chance' for people to change and rehabilitate. Experience and research reminds us that, people from all walks of life can end up in the criminal justice system. With over 12 years of service delivery experience,we have developed specialist insights into approaches for breaking the cycle of criminal lifestyles. Our charity is fundraising to purchase a building in the second city of the UK, Birmingham. The 'Hub of Hope' , will help with employment, supporting new business start up's, and be a safe place where individuals and their families can receive counselling and specialist mentoring .We are seeking to raise £100,000 which will contribute to the purchase and running costs of the Hub .Thank you for taking the time to read, please support if you can.
Please share with your friends - thank you!
Supporting people in need of a second chance
PROUD WINNERS OF 'BEST FESTIVAL FILM'
©2017 Bringing Hope is a charitable company limited by guarantee registered in England and Wales.
Charity No. 1122288 Company No. 6271245 ALL RIGHTS RESERVED. TERMS & CONDITIONS. PRIVACY POLICY